Location
KRA assisted the Housing Association to trawl through their site ownerships in search of a suitable unit location. After exhaustive search for a relatively small site for the ASD unit, South House Broadway was selected. The site also had the advantage of the Care Team already having a presence on campus. 
The site location for the unit was identified as small fragment of an existing Sheltered Housing Scheme run in the South of the City of Edinburgh run by the Housing Association.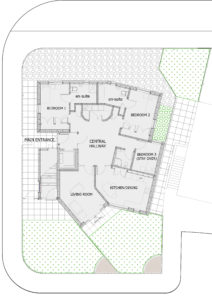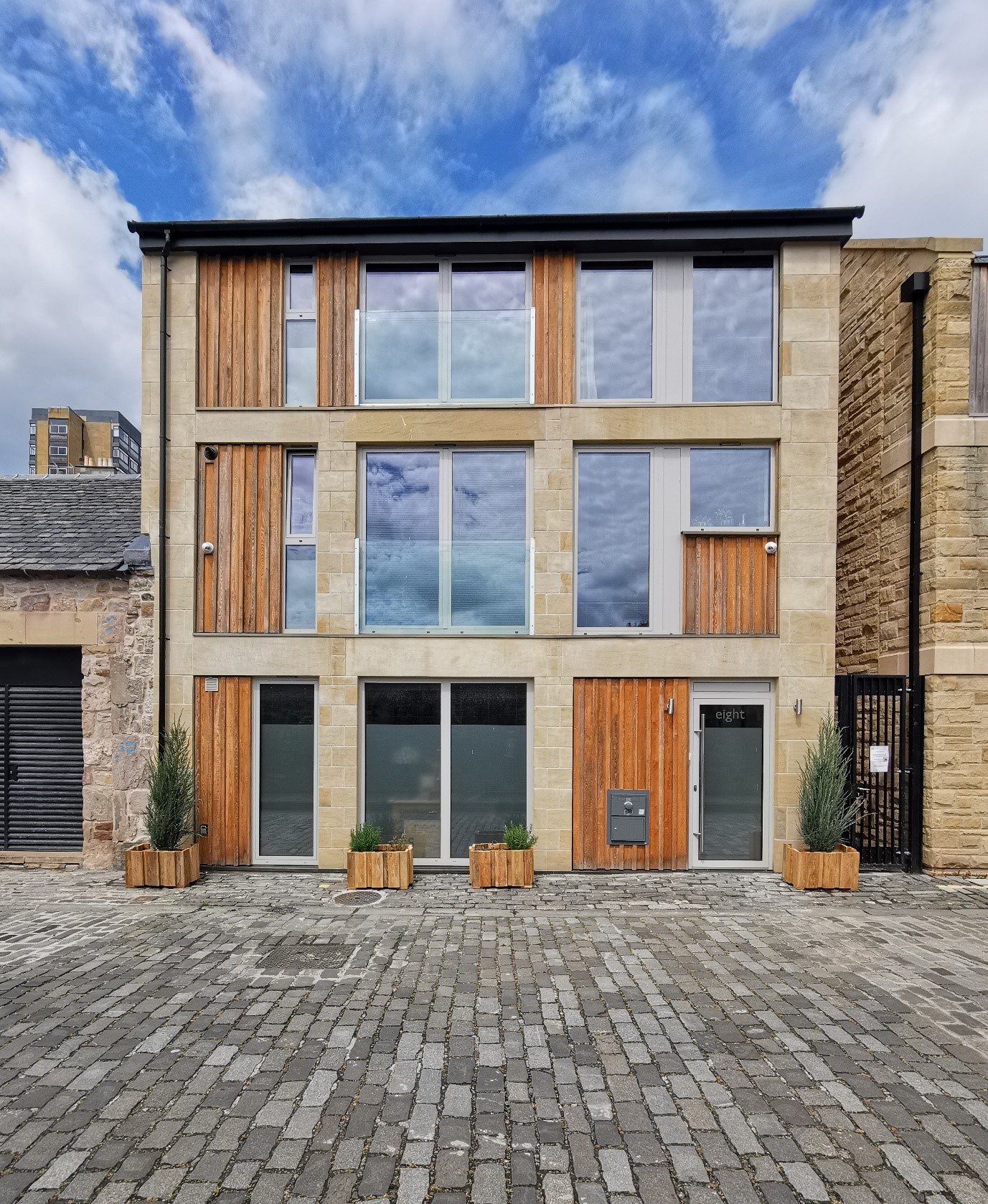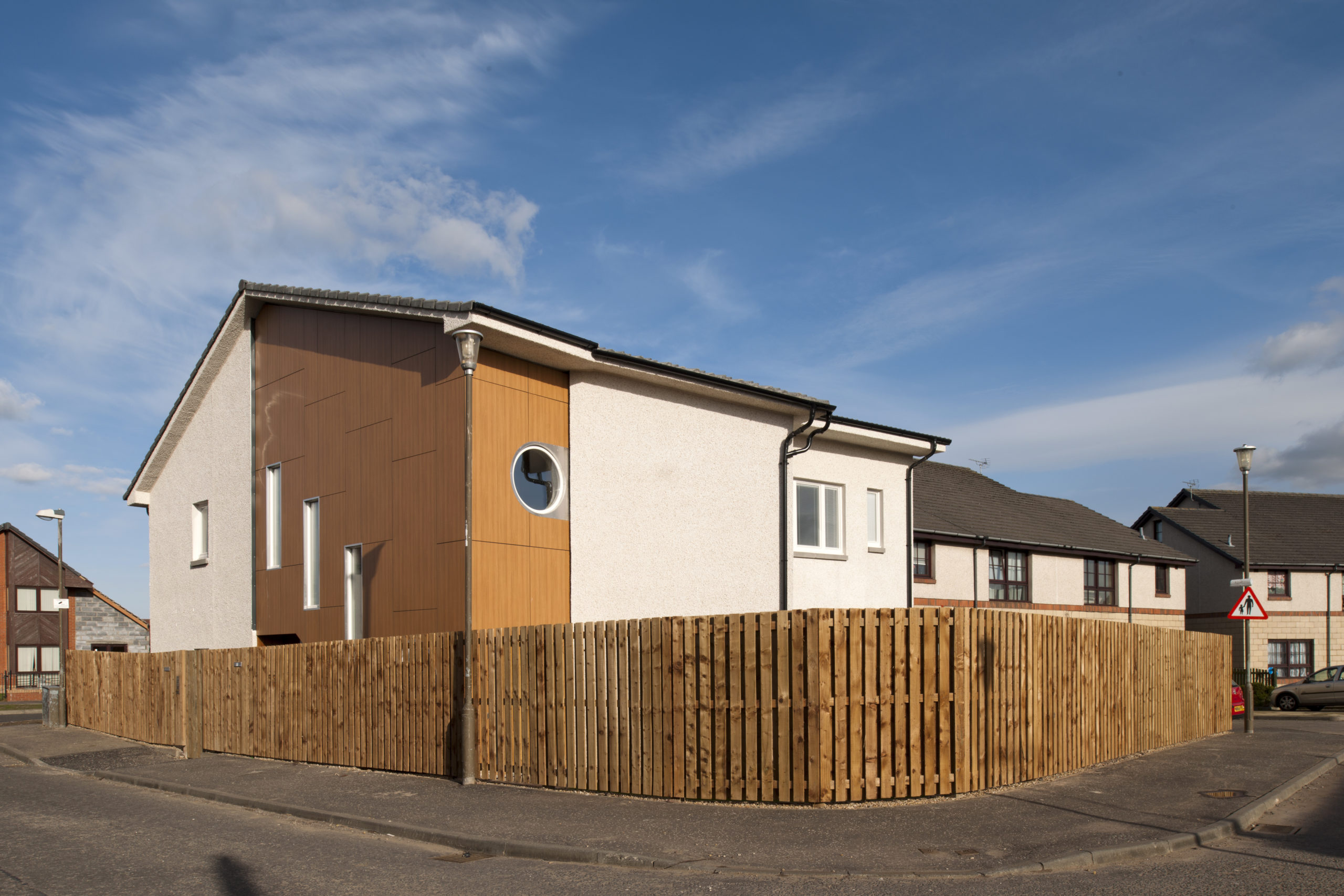 Brief
The brief proved to be challenging, to accommodate the requirement for 4 independent, young coming of age adult people leaving full time care within a large institution in Midlothian, and to provide a suitable "fit for purpose" home for the remainder of their lives.
The home was to be designed in a manner that it felt just that, "a home".
KRA were provided with personality profiles, the 4 flats with all varying requirements for day one move in and KRA were charged to accommodate further potential although anticipated future needs as they get older.
Due to the particular requirements of the service users KRA needed to anticipate and incorporate a wide variety of requirements that would not normally be built in as the standard housing.
The unit was to not "stand out" as any different than the other units within the small community scheme although was to be definitely fit for its own purpose, contemporary in external appearance with plenty of daylight within the interiors.
KRA rose to all the challenges and their goals, in a similar manner as they have on other Special Needs Schemes, to visually de-stigmify the final design solution.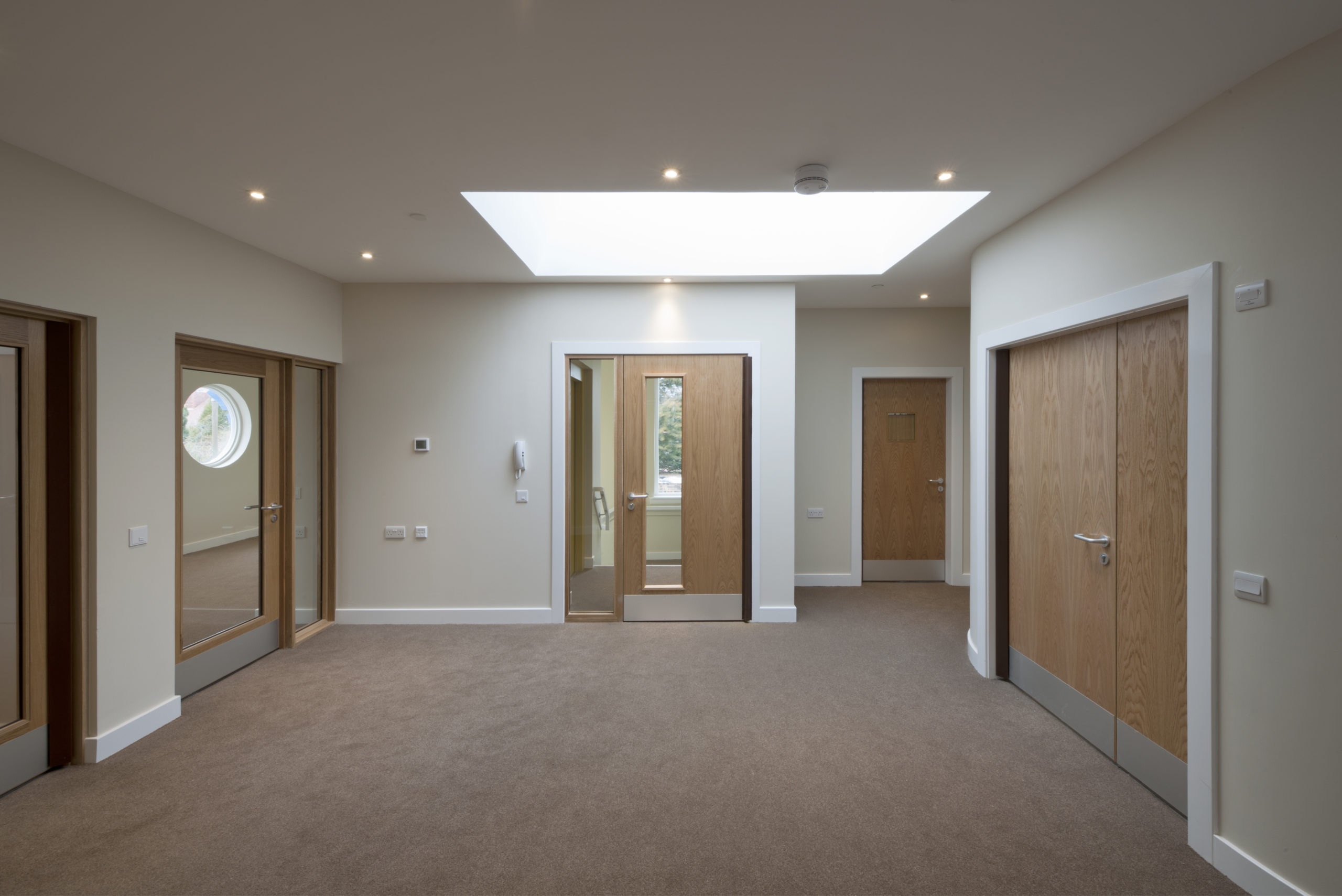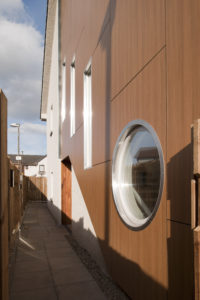 Description
Traditional materials were selected for the outside palate, such as dry dash roughcast and timber veneered boarding to the staircase area, topped off with roof tiles to match the balance of the scheme.
The A.S.D. unit is arranged over two floors and accommodates 2 flats per floor plus "stay over" room, en-suite, kitchen, common living room and laundry facilities, incorporated on ground floor are 2 wheelchair accessible flats which have secure external amenity space fully incorporated.
Internally both levels are arranged around a wide central hall in the middle of the plan and rooms radiate out, to ensure simple and clear way finding.
Internally there is a passenger lift to the first floor along with a stair sufficiently wide to accommodate for a carer to be on each side of a user, whilst holding onto a robust handrail system.
Features include wall linings that are robust enough to withstanding physical impact with plywood pattressing mounted behind the plasterboard and one flat has wash down boards throughout and no plaster boarding nor tiling, no surface mounted pendant light fittings in all flats and floor coverings to accommodate sustained cleaning.
Further small details include doors with kick plates and robust anti-ligature ironmongery, along with door hinge safety protectors were all key features designed into the scheme
Adjacent to bedroom areas, en-suite facilities were provided with wall mounted wash hand basins securely fixed to the walls with taps that automatically switch off and no waste plugs along with DDA toilets and recessed toilet roll paper dispenser and level access walk in shower arrangements.
To ensure additional future proofing the ceilings in the bedroom were all reinforced to accommodate potential tracking hoists from the bed into the en-suites.