Location
The location for this 'original stable block" is on a corner plot within the Grange Conservation Area. Formally an 1800s stable which was not viable for simple renovation and instead was partly incorporated within the large footprint of overall 5,000 sqft, this two storey family House with 2 large integrated vehicle garages accessed off Lauder Road through the existing boundary stone wall from which you can then directly enter this wonderful home.
The plot itself has a large south facing garden with one of the largest Monkey Puzzle trees outside of Edinburgh's' Royal Botanic Gardens.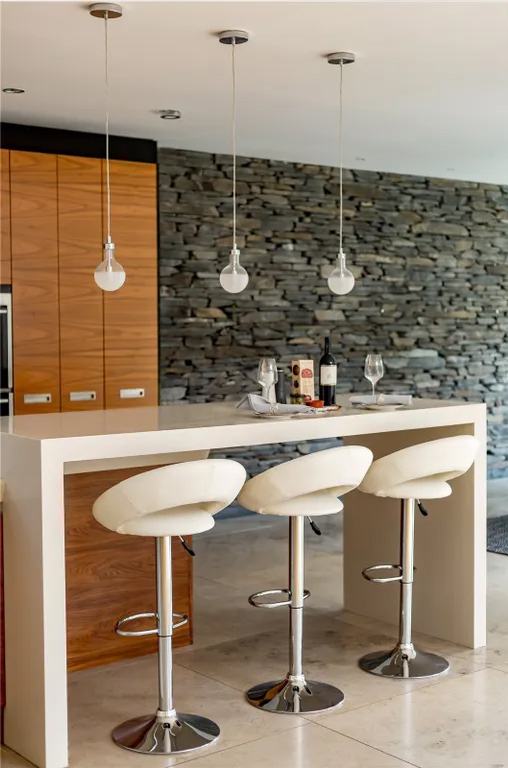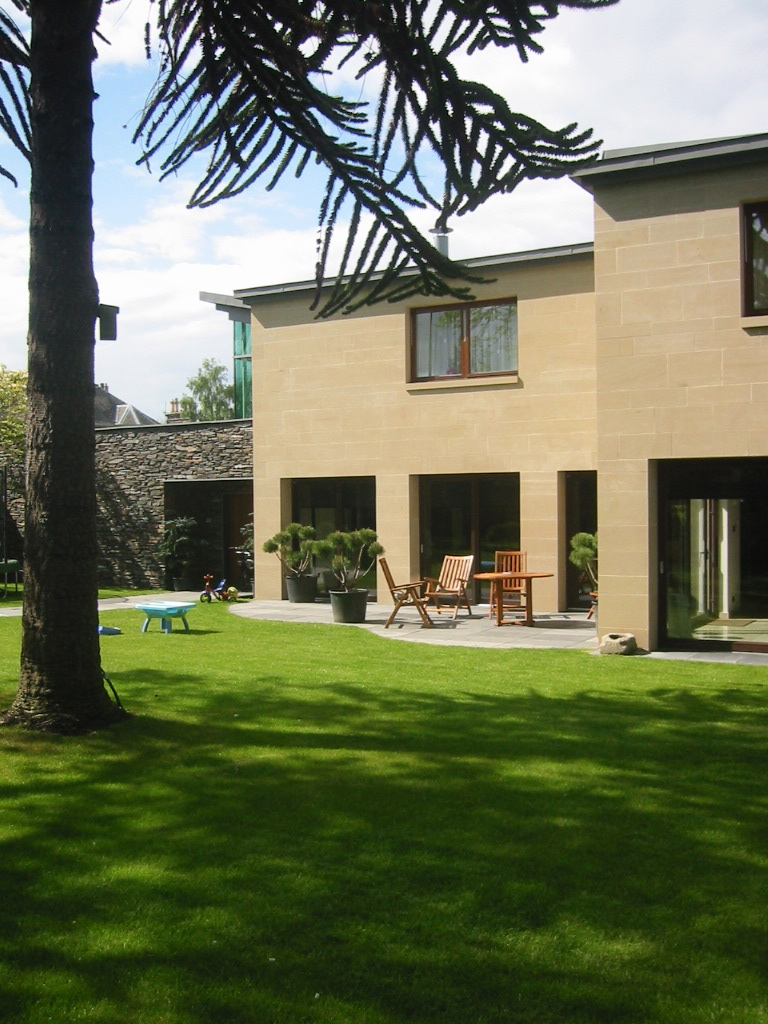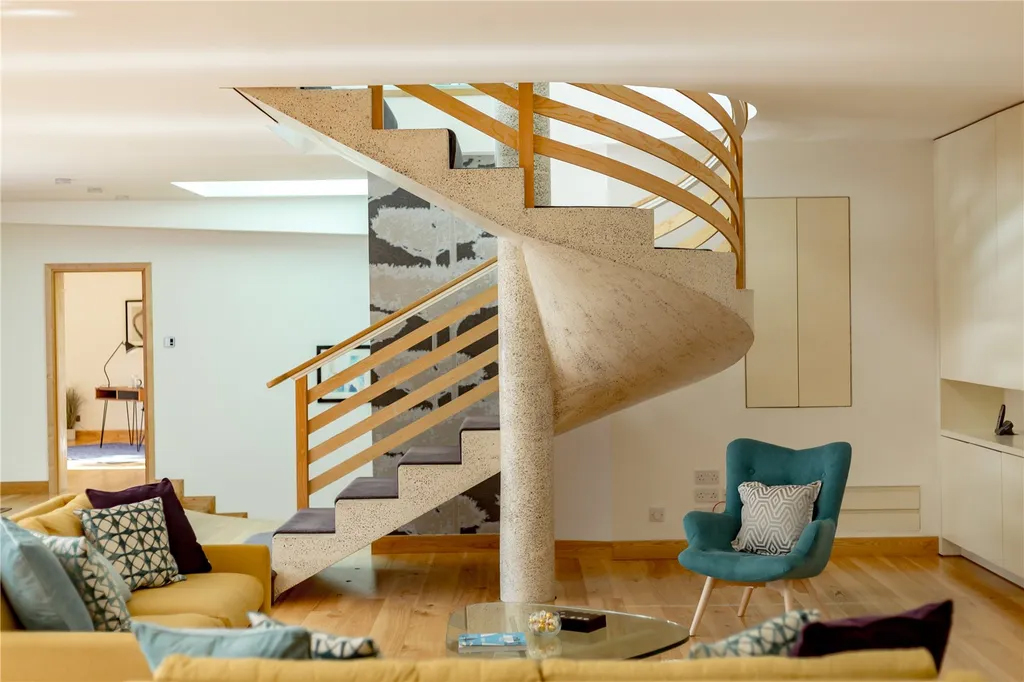 Brief
The brief for the accommodation was to provide a comfortable family house, incorporating privacy and yet uniqueness, with uninterrupted public spaces in the form of open plan Kitchen, Living, Dining spaces with important south facing views over the private gardens that were in turn enclosed by an existing high stone boundary wall. The interiors were required to be simple and with the open plan space at ground floor with an uninterrupted flat ceiling throughout the large open plan living space and to incorporate an incredible concrete feature stair accessed to the first floor fully on display.
After ascending the bespoke spiral stair, you enter an upper corridor with clerestory (high level) daylighting and a feature window facing to the West in floor to ceiling green glass, 4 are bedrooms of the centrally placed corridor with 2 having direct views north of Edinburgh castle over the rooftops below.
The aim of how the house in its plot was to provide a feeling of sense of arrival into a "safe haven" environment providing a feeling of privacy and bespoke personal spaces inside and out that gave a sense of inward intimacy and chosen views out. Both external and internally KRA used raw natural materials extensively and these were carefully selected and detailed, all laid to complement each chosen material and convey a feeling of earthiness, yet retain colour.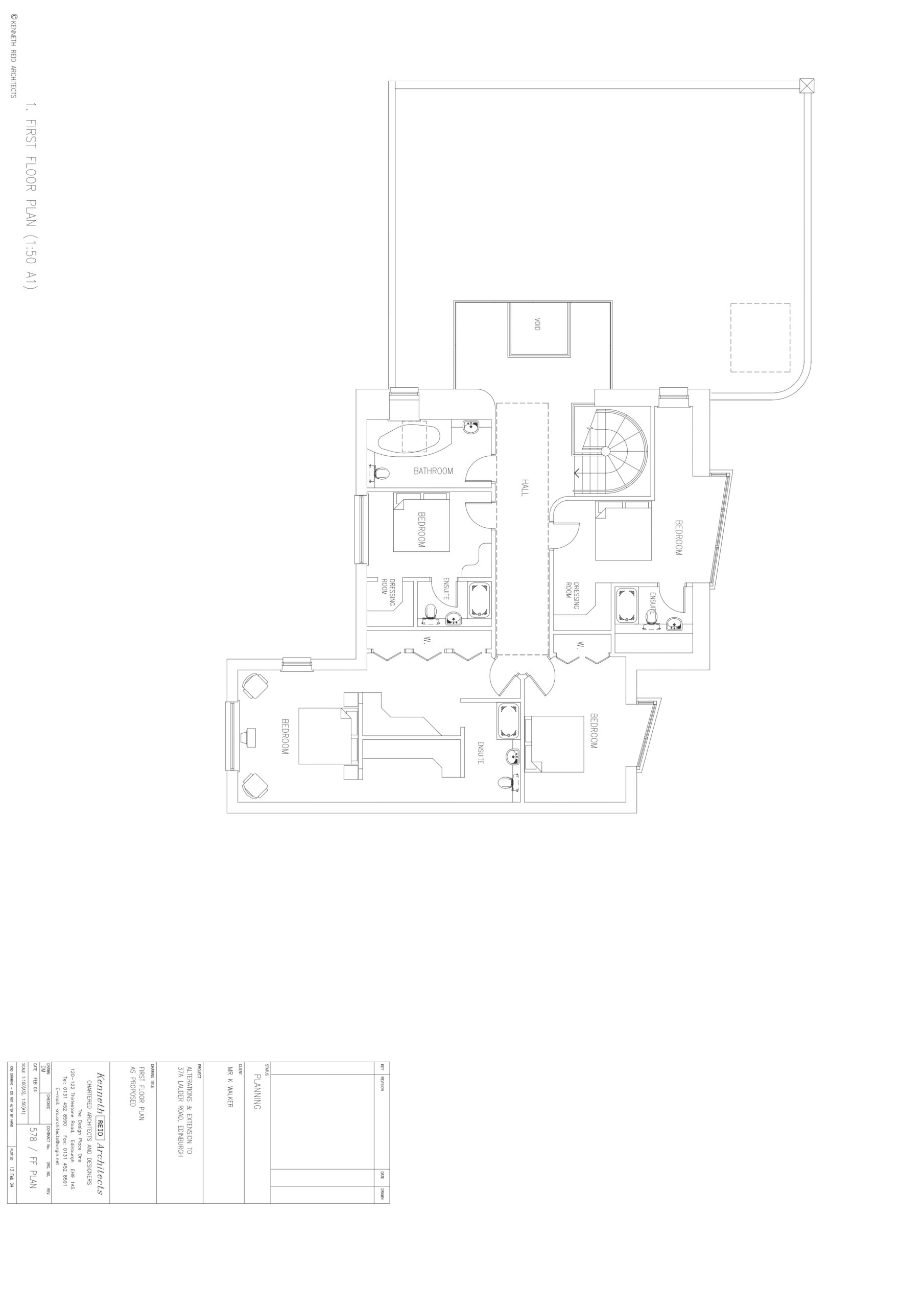 Description
The build structure was mainly in steel frame and timber infill for floors with external walls incorporating highly insulated twin wall construction. The External leaf of the walls are a combination of Blaxter sandstone and Westmoreland dry stone walling, which also carries through to the interiors.
The roofs are flat to match many of the Listed surrounding buildings, rooflights were employed for the first floor natural light along with walk over glass floors in parts for secondary daylight to ground floor areas.
A further feature to the public face is the Triple-glazed full-height, green glass window that incorporates automatic temperature controlled blinds hidden from view when rolled up.
The home is laid out in a logical manner, beginning from the ground floor garage through to the utility room and then you enter the main house with its feature concrete and glass staircase centrally located in exposed aggregate, in situ polished concrete, with a waist of 100mm, reminiscent of Edinburgh pen check stairs, that visually hangs off a central support with glass balustrading. A balsawood scale model was created as an experiment of the staircase before embarking on the real thing.
Interior floors are in natural oak ground floor and carpets for the bedrooms.  With boiler fed underfloor heating incorporated throughout, the gas boiler also serving the several en-suite bathrooms and kitchens.  The kitchen was designed as a simple matt grey single line with a movable island unit and large larder made from the extra space above the stairwell.
The overall feel of the property is light and airy. Ample, clever storage has been incorporated into the design, allowing a minimalist living environment while maintaining a family's total requirements.